Bored of protecting kings and countries (seriously), Brandon decided to take on fear itself - specifically for boaters, with his company Barnacle Systems.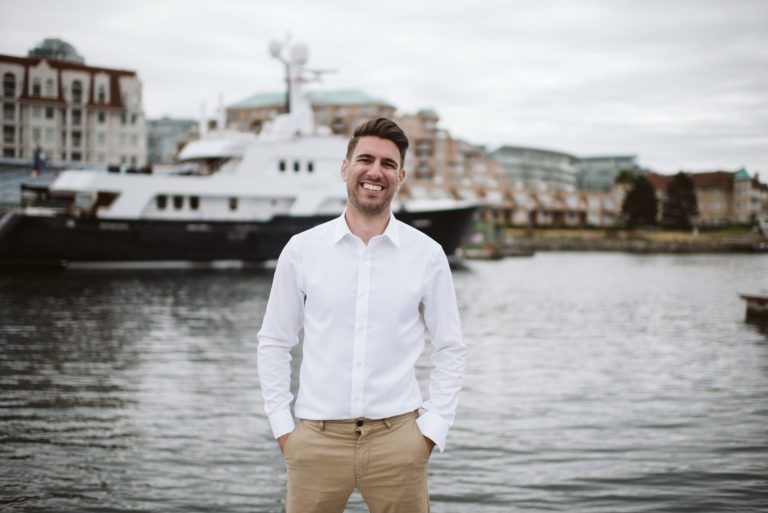 Finalist for:
Emerging Leader of the Year
What brought you to Victoria?
I grew up in Comox, BC and moved to Victoria to attend university. I came to Victoria for an escape from a small town then stayed for the amazing people and career opportunities. After university, I travelled the world for business and had many opportunities to settle in other places. However, I chose Victoria because, to me, it is the perfect mix of 'small city' and 'big technology'.
Where did you go to school and what did you study?
I went to the University of Victoria and graduated with a degree in Electrical Engineering.
How did you get to your current role?
I founded Barnacle Systems, a security and monitoring company for boats, after developing and managing surveillance systems and surveillance products for royal families, countries' borders, and environmental monitoring companies. Throughout the course of my career, with the help of exceptional mentors, family and friends, I have confidently transitioned from an engineer to project manager, to product manager, and now to 'Founder and CEO' of my own company.
What are some of your accomplishments?
I am grateful for and proud of the following accomplishments:
While working as a project manager for FLIR, a Fortune 500 company, I had the unique opportunity to present information on border surveillance technology to retired US Secretary of Defense, William Cohen.
After designing and installing a border surveillance system between Qatar and Saudi Arabia, my team and I were presented an award of excellence by the Assistance Chief of Staff of Qatar.
One exciting accomplishment that has occurred already in 2018 was when my company, Barnacle Systems, was hand-selected as 'the remote monitoring product of choice' by the World Cruising Club to its community of 60,000+ boaters around the world.
Even with all of these successes, my greatest accomplishment was becoming a father to my daughter in 2015 and choosing a career that keeps me close to my supportive family.
What's a major lesson you've learned in your career?
Managing stress is crucial. Having spent the majority of my career travelling to foreign countries and working on infrastructure projects to protect 'high valued assets', I have found myself in some extremely stressful situations. I have learned that no matter how scary or stressful a situation may be, you must trust your skills, lean on your team, and know that your friends and family will stand by you, regardless of the outcome.
I have also learned that some of the best solutions and ideas can come from the quietest people in the room. I strive to give everyone the opportunity to speak equally and openly, as I believe that being louder doesn't make you smarter.
What skills would you like to learn in the future?
I would love to learn about meditation and perhaps even attend a yoga teacher training. I spend a significant amount of time working with others and solving complex problems, but I very seldomly spend time reflecting and truly appreciating the moment. I feel that these 'softer' skills will not only enhance my personal life but also produce stronger business results.
What makes the finalist so successful?
– From Sean Battistoni, Oak Bay Marine Group:
"A path to success is never easy, it's a sum of many internal and external factors and requires many traits from a motivated leader.  Accountability, decisiveness, integrity, perseverance, innovative thinking, respectfulness, intelligence, likability, insight, modesty, drive, and vision. These traits are essential in dealing with the obstacles that stand in the way of success and Brandon Wright embodies them all.
It's not at all surprising that Brandon has ended up where he is today and is now being considered for the Emerging Leader Award. In a very short period of time, Brandon has identified a problem, created a solution for it and has done it far better than anyone else in the Marine market to date.  All of this has been as a result of leading a very small team. From an outsider looking in, this seems impossible, but this is Brandon's reality."