StarFish Medical digs deeper to solve the right problems and help entrepreneurs and entrepreneurial companies empower medtech innovation, while also giving back to the community in their "spare" time.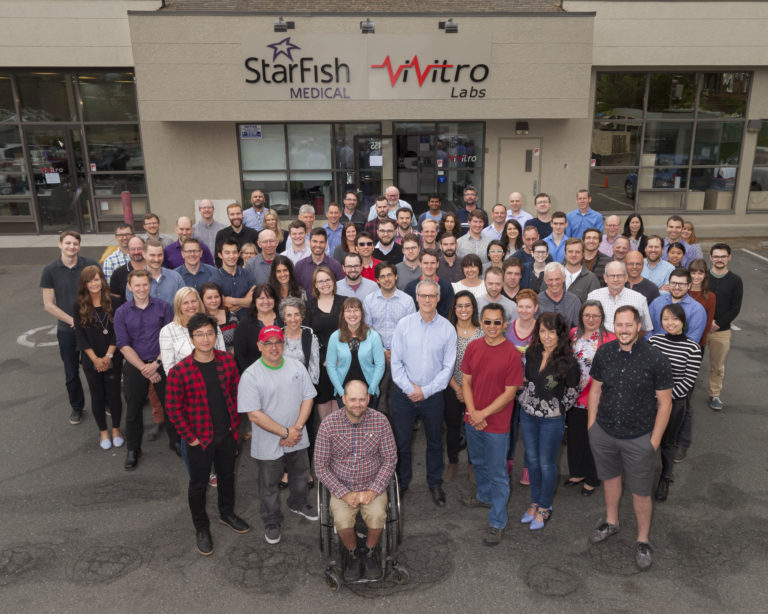 Recipient of:
Community Champion
When – and how – was your company born?
The company started in 1999 as a contract engineering service company. In 2004, after success with several medical device clients, we decided to focus solely on medical industry because the unique regulatory requirements and systems could provide an opportunity to invest and differentiate our services. We renamed the company to reflect that focus.  
By only designing medical devices, we gained more credibility and a more focused project history. We developed ourselves, created the most compelling set of operational metrics in the industry, and can now run 30+ world-class projects in parallel. Our early work in exchange for equity in Portable Ophthalmic Devices, Iowa, and Heidelberg Engineering, Germany, resulted in the IOPac, a hand-held ultrasound pachymeter for glaucoma screening which provided substantial revenue and ultimately an exit opportunity.
We became one of first companies in the region to become ISO 13485 certified – an important certification and commitment to medical device regulations.
Who are some of your clients? What projects are you working on right now, and what do they do?
StarFish clients span Cardiovascular, Digital Health, IVD, Ophthalmology, Optics, and Ultrasound medical devices. They range from start-ups to the largest medtech companies in North America. Examples include HemoSonics, Terumo, Pyng Medical, Zephyr Sleep Technologies, Novadaq, Cedars-Sinai, Analogic, Boreal Genomics, Verisante, LightIntegra, Bard, Stemcell Technologies, Natus, and Medtronic.
Our current projects are confidential, however projects of note include:
High frequency ophthalmic ultrasound imaging

Glaucoma screening

3D intracardiac imaging catheter

Blood flow imaging

DNA purification

Blood platelet quality assessment instrument using laser backscatter analysis

In-Home hemodialysis

Valvulatome catheter for peripheral vascular surgery

Surgical smoke and liquid suction for improved surgical safety

Robotic capsule gut biopsy
What was a pivotal moment for your company?
Our first and biggest client went bankrupt suddenly and left us with $200K in debt. We barely survived. My team all stuck together and we worked our way out of the hole slowly. They were heroes. In the middle of that we did an equity partnership in a startup developing and selling glaucoma screening machines around the world. It turned out great… and just in a nick of time. We focused on medical devices around this time.
Forward to 2012 at $5M in revenues… We asked ourselves what would amazing look like in five years and we defined $20M in revenues, very profitable, famous around North America, with our authors and speakers in demand in the top conferences and magazines of the field, and our own conference as some of the audacious goals. Five years later we're pretty much hitting all the goals, except we're more profitable than we thought.  
What's the most important thing you've learned along the way?
Relationships trump geography. Our dream of being the premier company in medical device development when the industry is elsewhere, defines independent, maybe crazy thinking. We believed it could be done in Victoria against entrenched competitors in the major centres where we were trying to win work. We spent heavily on medical regulatory compliance. Interestingly, medical device regulation is all about mitigating risks. The journey StarFish is taking to achieve our goal is a one of constant technical and financial risks in order to deliver life-saving devices and financial success to medical device inventors and entrepreneurs. Our secret to success is to mitigate those risks to a tolerable level through systems, experience, employees and culture.
What does the future 10 years look like for your company?
Our goal is to become a company of 200 people and $30M in medical device consulting, then build other companies around that core. We will be the best company in our field, remain founder-owned, and beat competing private-equity or public companies through systems, strategic focus, targeted content marketing, profit sharing, culture, and employee development. We want to be the premier company in North America in medical device development services.  In an industry where most new companies are not successful we want to be responsible for 100 innovative products valued at $100M or more. So far we've managed four.
Why Victoria?
I started my business to give me the freedom to live where I wanted to raise my family: Victoria, BC. Unfortunately, the medical device industry is mainly located in several clusters within North America: California, Minneapolis, and Boston. None are easily accessible to Victoria. The major Canadian regions, Toronto and Vancouver, are dwarfed by the US centers. Incumbent competitors are located in all of these clusters. We overcome this obstacle using a combination of direct sales, compelling consultative sales, and offering prospects an innovative engineering vision in order to earn trust. Great work leads to referrals. Our expert advisory board members have been critical all along, providing feedback, encouragement and referrals.